This post is sponsored by Hallmark Channel, all thoughts here as always, are my own.
The time has come! January (which always feels like the longest month ever) has passed and February has arrived… In all her glory. We all know that February is traditionally the "month of love", so I have a proposal for you (drops to one knee, gasp!)… How about we just coin it already? Loveuary IS the new February *slap it high if you're with me*. Now, we don't have the pressure of one specific day to take ourselves out on a date, or meet up with our girlfriends for a Galentine's Day, or be all romantico with our lovahhh! Because now, we have all month long.
I've always said that the best form of self care is self love, so we are where love happens. Us and the couch. Ahem, meaning watch your favorite show or movie and chill times. Ever since I was little and my mom would put on Hallmark Channel during every imaginable holiday, it's been our go-to destination for romantico movies and all things love stories… I'm a rom-com kinda girl and Hallmark Channel is actually Where Love Happens so.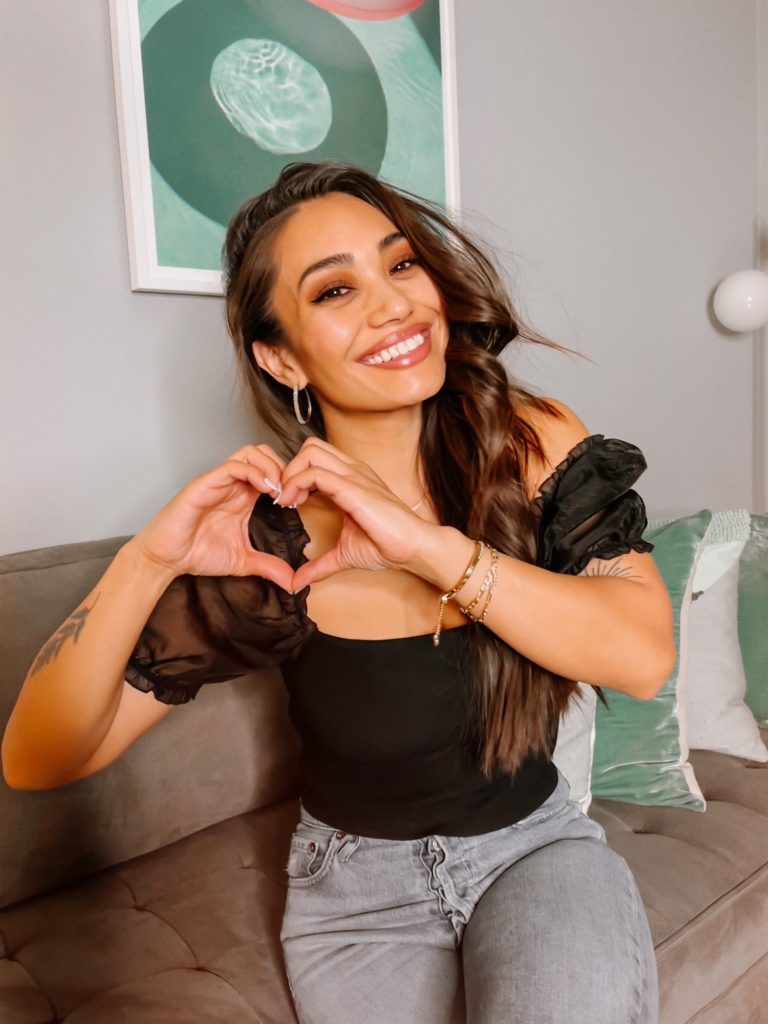 Find you a life partner that will watch romantic comedy love stories and keeps the rosé flowing- just like their love… All day baby! Cheers to us Lacey, I love you all the way and our date nights in <3 Okay, so let me fill you in on the 4-1-1… Do we still say that? Because I'm not like a regular mom, I'm like a cool mom. There are four NEW romantic movies premiering that are part of the original Loveuary programing on Hallmark Channel, all throughout February- which begins on Saturday, February 5th with the encore of the premiere of The Wedding Veil starring Lacey Chabert (Feb. 5th), The Wedding Veil Unveiled starring Autumn Resser (Feb 12th), The Wedding Veil Legacy starring Alison Sweeney (Feb 19th), and Welcome to Mama's starring Melanie Scrofano (Feb. 26th). Write that down, I'll wait.
The Wedding Veil trilogy follows three best friends who met in grad school and it's a story we can all relate to, trust. It includes the three movies and is a first for Hallmark Channel. It will include three of its biggest stars who'll also be featured in all three movies while starring in their own AND highlighting their personal love stories. How cool is that? You can follow along each of their stories individually and as a group, and I say just get all of your friends together and have a movie night with popcorn, bubbles, and sweet treats.

Be sure to TAG me and @HallmarkChannel in your posts so we know what you're sippin' on, what you're watching, and how you're loving them! I'll be following you all at #TheWeddingVeil and #Loveuary and you can find all the information you need about all Hallmark Channel #LOVEUARY original romantic movies HERE!
Extra goodies:
Loveuary Sweepstakes– https://loveuarysweepstakes.hallmarkchannel.com/
Virtual Backgrounds- https://www.hallmarkchannel.com/hallmark-channel-virtual-backgrounds-love
Loveuary recipes- https://www.hallmarkchannel.com/loveuary/loveuary-recipes/**
So tell me, how are you spending Loveuary?