I love that pictures freeze moments in time and allow you to relive them again and again. Pictures are a physical memory since we can't always rely on our mind memories (mind memories…totally a thing) to recall a special occasion, or remember exactly what that moment looked like. I toted a Polaroid camera along with me for Linz's bachelorette party in Vegas last month, and asked that everyone take photos of the weekend and then give the Polaroids to me for a gift we'd make for her. This is what I did with all the photos, a Polaroid photo frame! Thank you Pinterest!!!!!! When in DIY doubt, Pinterest out!!!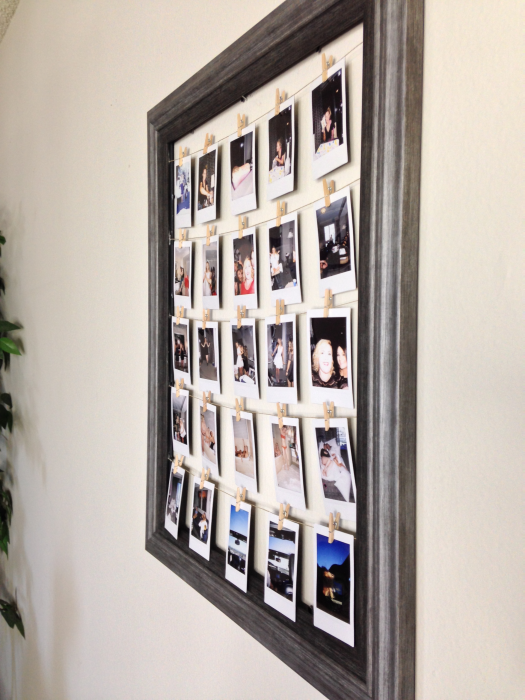 For this you'll need:
a frame of your choice
sturdy string or wire
mini clothes pins or metal clips
your photos
scissors
hot glue gun and glue
measuring tape

Method:
You'll remove the back cardboard and glass from the frame so that you're just left with the frame body
line up your photos so that you know how many columns you'll have and how many rows
use the tape measure to figure out where you're laying down your string or wire so that your rows are evenly distributed
lay down a dollop of hot glue into the nook of the frame to hold the string in place on one side than line up the other side and do the same
allow the glue to dry and then hang your photos onto the string with the mini clips and walaaaa!
All of your memories in a cute lil DIY frame, handmade by you, with love…and a few burned fingers 😉 I hope you enjoyed this DIY post, I love doing home decor, especially at a level that my skills or lack there of are able to grasp! haha!
Let me know what other home decor/DIY things you'd like to see, and I hope your weekend is awesome!!!
Hugsssss!
Jess